We Are Sacred:
The Path of Unconditional Love and Acceptance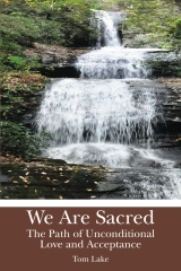 "We Are Sacred", a book written by Don Thomas Lake, reflects his life experiences as well as insights gleaned from almost 40 years of working with people as a Shaman. This collection meditations, poems and insights will offer you inspiriation and light on your path by helping you see the value of Unconditional Love and Acceptance of yourself and others. Also available by e-book via e-mail for only $9.99 USD.
$20.00 USD Paperback or $9.99 Ebook
http://www.shamanic-path.com/contact.html
The Path of the Wolf:
Guided Shamanic Journeying CD (currently back-ordered - use contact us page for ordering)
The music and guidance of this journey will take you deeper within yourself to a space where you will find and discover your Power Ally. We invite you to walk with us through this journey, to awaken the knowledge that lies deep within your spirit. By finding and building a relationship with your Power Ally, you will learn about yourself. It will teach you, guide you, and help you find the gift Great Spirit gave you when you were born.
In this guided shamanic journey, Don Thomas, anointed Shaman, in collaboration with Diego Herrera, accomplished musician you will experience a very moving and richly mastered shamanic journeying experience. This CD features sounds designed to raise your consciousness with tempos from a variety of cultures. For this project, Don Thomas and Diego Herrera revealed rhythms that traditional people have been using for thousands of years, gave them words, and articulated new meanings for today. Through such endeavors, shamanism can be more accessible to all people.
$16.00, plus $4.50 shipping and handling per CD
Show Your Love and Acceptance with a Bumper Sticker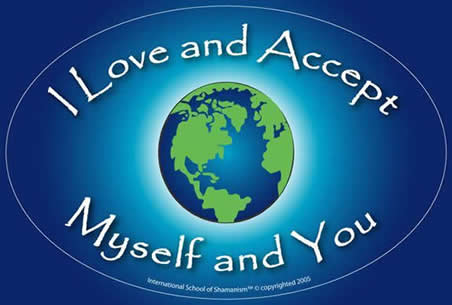 The core message of The International School of Shamanism is unconditional love and acceptance.
The meaning of the word unconditional is "without conditions or reservations; absolute". The practical extension of this theory of unconditional love and acceptance is a nonrestrictive atmosphere. This atmosphere promotes healthy growth in body, mind, and spirit in ourselves and each other. Our bumper sticker is a representation of this healthy attitude. We may not always like or understand ourselves or others in our behaviors but we can choose to unconditionally love and accept the essence and divinity that lives within all of us.

$3.00, plus $1.00 shipping and handling each
Donations for Student Aid
Donations are designated for student aid. Through this account they are applied to help fund students in need to further their Shamanic studies. A gift for student aid can be any amount. It is our policy to let recipients know who their donor is when that information is available to make that connection.